**CONTEST UPDATE: CONGRATULATIONS TO THE RANDOMLY SELECTED WINNER JEN. I love how she'll be recycling her old yoga mat!   I'll be posting everyone's suggestions for how to recycle your old mat soon.  Here's what Jen will be doing:
"i've heard that some animals shelters will take mats as extra cushioning for their puppy crates, so i'd definitely call my local one to see if they would like it (plus i already have some sheets that i've been meaning to send their way!)"
Please check Yoga Peach on Facebook for contest winner instructions.  Thank you to everyone who entered and stay tuned for another wonderful giveaway soon!**
This is an incredible free giveaway this week offered to Yoga Peach readers!   One lucky winner will win a top of the line Tapas Performance Mat by Hugger Mugger Yoga Products! Winner will select a Tapas Performance Mat in black, slate or concord.  Entering is easy and fun.  We want to hear how you'll recycle your old yoga mat!  Winner is not based your answer and will be selected randomly.  We'd love to hear some creative ideas though!  Entry details below.
I love my new mat!  I am so excited, I finally have a durable and dependable yoga mat!  I can't believe what a difference it made in my practice this week using my new concord Tapas Performance Mat by Hugger Mugger! I LOVE it.
My mat is super sturdy, firm and keeps me from sliding around. It's perfect for me since I need a really durable mat for power yoga.  I have no idea how I dealt with the old mat I used to use.  The mat is ideal for yoga, pilates or abdominal and floor exercises.   Typical mats shred easily and wear out so quick.  This mat is supposed to last me for years and you can tell the difference in quality between this mat and typical mats just by feeling it.  The difference in my yoga practice was also very noticeable.  I heard wonderful reviews from a few people in my yoga training who also have it so I'm totally excited to have such a wonderful and good quality new mat.  It is specially created with an antimicrobial Zenz-in agent that prevents the growth of mold, mildew, and odors throughout the life of the mat.   I'm especially excited about this since my old mat even after washing held in a stinky smell.  It's 1/4 inch thick providing plenty of cushion too.  For anyone serious about yoga or floor mat exercises a durable mat is essential and I am thrilled to have found Tapas Performance Mat.
Check out their yoga mats and variety of yoga products on Hugger Mugger.
72 inches long and 26 inches wide mat.   They also offer an even larger one.
1/4 inch thick mat
HOW TO ENTER:
1)     Leave a comment below telling us how you'll recycle your old yoga mat -easy!
2)   "Like" Hugger Mugger on Facebook
3)   "Like" Yoga Peach on Facebook and you must leave a comment on the wall
Additional entries accepted. One additional entry for each of the following:
Tweet about this giveaway and include @ yogapeachblog- get the word out!
Follow Yoga Peach on GFC (located at bottom of website)
Add me to your blogroll – I love making new friends!  Please email me at yogapeachblog @ gmail (dot) com if you've added me to your blogroll.
* Contest will be open until 12:00pm noon EST on Wednesday August 10th. Contest winner must have a US mailing address.
* The winner will be randomly selected and announced by Thursday August 11.  Winner will now be announced on FACEBOOK! Please check there to see if you won. The winner will need to contact Yoga Peach within 5 days to provide name and shipping address. Winner will select color of  Tapas Performance Mat This is such an awesome giveway, good luck to everyone!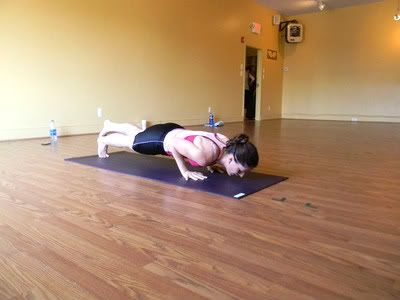 all photos taken via Yoga Peach